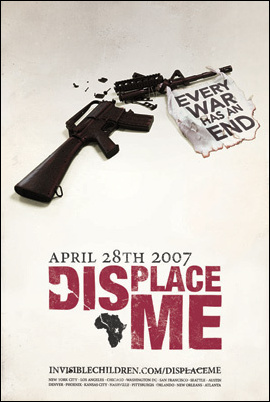 Quick. Pack up some things. Not too much. Get in your car and get to the camp.
That's what has happened to almost 2 million Northern Ugandan citizens, forced into temporary displacement camps, some more than 10 years ago.
And that's what will happen with some 150,000 Americans on April 28.
Displace Me, a national campaign to raise awareness of horrific conditions in the Ugandan displacement camps and the war from which they result, is quickly gaining strength.
Organizers estimate that 10,000 people with gather at each of the 15 sites around the country, to send a message that U.S. citizens want an end to the war in Uganda that is threatening human rights on a multitude of levels.
"The point is to become displaced yourself," promotional materials say.
Like its sponsoring organization Invisible Children and last year's Global Night Commute event, Displace Me is being put together by a small group of young people operating out of headquarters in Spring Valley, California.
Their efforts to raise awareness of what's happening in Northern Uganda have been successful among high school and college students nationwide and they are hoping to spread the word among older age groups and in other countries.
"It's definitely spreading," said Ava Avedissian, movement office coordinator, in a telephone interview April 13. "We hope to see a lot more families. But it's a slow process."
The movement started four years ago when college students from California went to Africa with a couple of backpacks and a video camera, intent on making a documentary on Sudan.
They stumbled upon another story, that of the war in Northern Uganda with the Lord's Resistance Army. The rebel army was staffing its ranks by kidnapping young children and forcing them to serve. The Ugandan government, in an effort to protect its citizens from the LRA's terrorism, forced more than 1.5 million citizens to leave their homes and occupy displacement camps.
Conditions in the camps are appalling, Avedissian said.
"Food supplies have recently been cut in half," she said. Without proper food, water, medical care and security, the death rate in the combined camps is 1,000 per week, Avedissian said.
Last year's Global Night Commute had Americans all over the country recreating the Ugandan children's nightly march into protective group sleeping centers.
This year, Displace Me will have thousands of Americans leaving their homes and gathering together in camps set up in Seattle, San Francisco, Washington DC, New York, Nashville, Los Angeles, Phoenix, Denver, Austin, Kansas City, New Orleans, Chicago, Atlanta, Pittsburgh and Orlando.
Invisible Children also has begun a bracelet campaign to raise money and awareness. Bracelets made by adults in the displacement camps are being sold with DVDs profiling children affected by the war.
The original film, made by Invisible Children founders Jason Russell, Laren Poole and Bobby Bailey, is shown to high school and college students throughout the United States.
The movement is catching on internationally, Avedissian said.
"There has been a huge response from Canada," she said, but the non-profit group can't handle an expansion outside the United States right now. The film was recently shown to a group of 17,000 women at a conference in Australia "and it's really taking off there, too," Avedissian said.